UPDATE: please note that the Freemason Store has since closed down and it's no longer in operation. As an alternative, we recommend our very own, brand new MasonicFind Store.
---
Here at Masonic Find we are very cautious about the things we suggest and promote.
We have strict policies on this because we will not be the cause of another brother getting bad information or buying low-quality goods from a less than reputable retailer.
If you see a link here you can be assured that link will guide you to quality information and/or resources.
With that in mind, I want to bring your attention to The Freemason Store.
The Freemason Store has served more than 70,000 brothers and they have a track record of excellence. But I'll tell you more about that in just a minute.
First, let's look at the actual store.
The Freemason Store Review:
By Freemasons, For Freemasons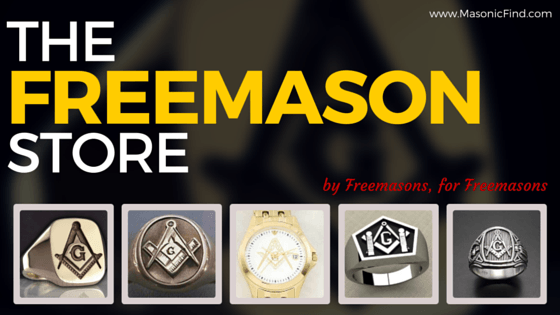 The Freemason Store is Complete
Unlike other websites, where you might only find a few things here or there, The Freemason Store is complete with more than 9,000 products.
Now at first you may think that's not a big deal. But I can tell you from experience that most online "stores" with that much inventory are a nightmare to deal with. Usually they are confusing, contain lots of dead pages, and are incredibly slow to load.
The Freemason Store has none of those problems.
Perhaps this is because of the way things are laid out in the store. Instead of endless tabs, popups or advertisements, The Freemason Store is categorized by item and price. You can see an example of this in the image below.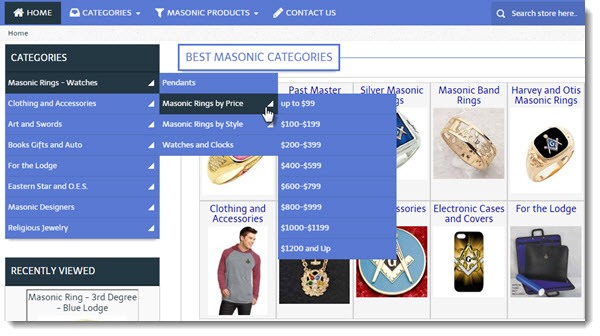 This layout makes it simple to find exactly what you are looking for without having to sift through a bunch of useless and infuriating nonsense.
The whole point of buying online is convenience, not confusion. The Freemason Store is one of a small few online retailers that handle this well.
Best Prices On Masonic Items
Of course convenience isn't the only reason we shop for masonic items online, is it? The price is obviously a factor in everyone's purchasing decisions, no matter what they are buying.
Again, this is an area where The Freemason Store shines.
Looking at the ring selection alone reveals dramatically less expensive items than you would find at a regular jewelry store online.
In fact, here's a great example.
In the image below you can see two identical rings. The one on the left is being sold at a leading jewelry store online. The one on the right is sold at The Freemason store for much less.
The price difference is more than $500.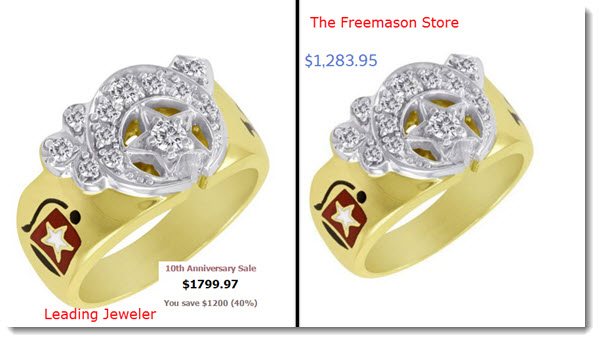 FreeMasonStore has 1000+ rings on sale at up to 70% off!
In addition to that, they offer free shipping on most items and they have a "Specials" section where more than two thousand items are reduced by as much as 50%.
Masonic Items Selection
I've already mentioned that The Freemason Store holds more than 9,000 products.
Although that sounds like a lot, you really can't understand just how much it is until you start digging through it all.
Despite the store stating how many items they have, I decided to personally count each one. On the homepage The Freemason Store says it has more than 8,000 items, but I wanted to see for sure — because, as I said, I'm still amazed how many products they host with such a smooth running website.
I counted exactly 9,015 items (I think I missed a few here and there too).
The Freemason Store has everything from rings and pendants to hoodies and gavels. I have never seen a more complete selection.
What's even more impressive though, is that it only took me a few minutes to completely comb through each and every item. This is a testament to the speed and simplicity of the website.
One of the great things about their selection is that you can adjust your order on the same page before you make it. For example, if you want to change colors or sizes, you can do that, all without being redirected to another page to change or edit your order.
There's even a box at the bottom of the page that shows reviews and descriptions for the specific product you're looking at. There's also color and size charts as well as suggestions for other products you might like.
Service and Excellence
In today's modern world, where everyone and everything is recorded it is very easy for people to make mistakes that haunt them for the rest of their lives. This is especially true for businesses and their owners.
But because of this, we have noticed a rising tide of businesses becoming wildly successful due to their customer service. With social media being such a vital part of where and how shoppers buy things, businesses with terrible customer service seem to fail pretty quickly now.
Take for example, companies like Amazon and Zappos — Both companies have proven track records of customer service that go above and beyond any other business.
Amazon has been known to ship double orders to make up for delayed shipping  and issue a no-questions-asked refund on faulty electronics.
After realizing customers needed a way to return shoes that didn't fit properly, Zappos enlisted a policy that provides their customers with free shipping…both ways.
These companies and many others are beacons of customer support and service.
Most businesses prefer not to compete with business like these because they deem it 'too expensive'.
However, the ones that follow the footsteps of businesses like Amazon and Zappos are elite, and have become customer favorites.
I, and more than 70,000 other brothers consider The Freemason Store to be in this category.
Just look at some the testimonials left by a few brothers that have recently bought items from The Freemason Store.


There is more than five pages of testimonials just like the ones you see above. And you know as well as I do that Freemasons don't just handout testimonials like that. Those have to be earned, and The Freemason Store has earned each and every one of them.
If you ever do have any issues or questions for them they make very easy to get in touch with them. There is, of course, a "contact" link at the top of every page, but that's not the only way to reach them.
At the bottom of each page you will find the physical address, email address and phone number. For a quicker response you can use the buttons that take you directly to their social media profiles on Twitter, Facebook, Pinterest and Google Plus.
Making themselves easy to contact is probably one of the biggest reasons so many brothers have become loyal customers at The Freemason Store.
I know it's definitely one of the reasons I like them so much.
If you've never shopped at The Freemason Store you should head over there now. We'd love to hear about your experience!
---