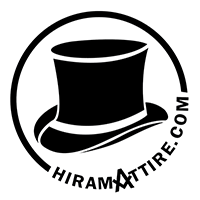 MF – Tell us a little about yourself and how you got started in Masonry.
HiramAttire – Well, I was originally a member of the Moose Lodge, (don't laugh), but it was basically just a bar with a meeting room attached, and at the time I didn't drink so I was looking for a different type of atmosphere.
During a get-together I overheard a good friend of mine talking to a female friend about the Eastern Star, (she had been a Rainbow Grand Officer), and I was curious about the whole thing.
After asking the right question I became a Master Mason in June 2008, and was installed as Senior Steward in Dec of 2008.
MF – You didn't start HiramAttire.com until 2015. Is that when you had the idea?
HiramAttire – I actually had the idea, (and the domain name), many years before that, but as I'm sure you are aware the progressive line takes a lot of your time, between work, lodge, and family I just never found the time to commit to it.
MF – So what changed?
HiramAttire – In October of 2015 I was winding down my Master's year and I could see the light at the end of the tunnel finally, so I decided it was time to pursue it.
MF – Why t-shirts? Or even clothing in general?
HiramAttire – Back in 2008/2009 there weren't many masonic designs to choose from. If all you wanted was a square and compass or your lodge name, you were good, but nothing else really existed. I wanted something more; more visually appealing, more humorous, and more unique.
I also happen to really like t-shirts. Living in Southern California most days are shorts and t-shirt days.
MF – Your name is very catchy. How did you come up with it?
HiramAttire – Thank you. I was talking to Wor. Jack Pham one night at officers practice about my t-shirt ideas, and we were throwing names and ideas around. I'm pretty sure he either came up with the idea or came up with more than half of it.
I remember saying if you don't take that I will! To which the gracious Wor. Pham said "Be my guest".
MF – The first design you released was the Yonder ship. How did you come up with that design?
HiramAttire – At my lodge, Wor. Richard Cliff is always the Wayfaring/Seafaring man.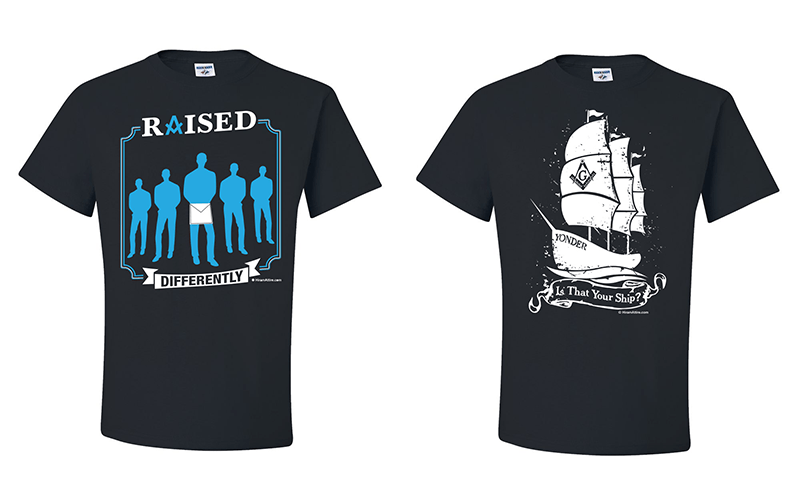 He's an icon. So whenever he's performing the part we all get a kick out of it. Eventually it became an inside joke with the guys and we'd nudge each other and say, "Is That Your Ship?", and each time I would picture the ship with the name as Yonder.
So it's an inside joke, but it's one that we all as Masons can share.
MF – How are you handling printing and fulfillment?
HiramAttire – Well, I started with Teespring but our lodge Secretary, who is a good friend of mine, wound up getting two bad shirts out of the three he had ordered and I got one bad one out of the three I ordered.
I just couldn't continue using them with quality that poor, so I switched to the Merch program by Amazon.
That has worked pretty well, they've got great customer service and their quality is top-notch, but they're often out of stock, and there's no way to give a customer a discount.
Plus the customization options just aren't there.
I've now switched to using Shopify and having my designs printed at a local screen printing shop. This allows me to customize design placement, give customers discounts, sell in person, and give away to charity. It puts a lot of the control back in my court.
The only bad part is now I'm having to invest a bit of money into inventory so if a design doesn't sell well I'm left with a lot of t-shirts.
MF – What's your plan for the future? Do you think you will ever print your own apparel?
HiramAttire – I'd like to. If I can make enough money to buy a 4-color screen printing press and all the gadgets that go with it.
For now though, partnering with my local screen printer has been great.
MF – Any hints on what's coming out next?
HiramAttire – I've got a few designs in development right now, so keep an eye out in the coming months. I just released a design with two American flags for Masonic veterans, it's only in red right now as a lot of the guys expressed a desire to wear it for red shirt Friday.
I've also had people asking for t-shirts with the design on the back instead of the front so that's on my list of things to do. If all goes well, I'd also like to print some hoodies this winter.
MF – Well, it's certainly been great talking to you and I wish you all the best. If the readers are interested in your t-shirts how can they purchase them?
HiramAttire – Just head over to HiramAttire.com and use the links there to purchase. They can also sign up for email notifications of new designs at the website, (and exclusive discounts!), or like us on Facebook at facebook.com/HiramAttire.
Thanks for the interview!
USE COUPON CODE: "

MF-20OFF

" FOR A 20% DISCOUNT!