Welcome to Masonic Find where we try to teach the world all about Freemasonry.
I get asked a LOT of times about how to become a freemason so I've decided to write this article below to hopefully provide some clarity for you. Here I give you the right steps on what you should do to become a member.
I've touched on this subject before but I've decided to talk about it again to give you updated information.
If you'd like to read my previous article, you can do so here.

Decide Deliberately In Your Heart
The first place you'll become a freemason is in your heart. Don't ever become a Freemason just because somebody told you to.
Also, don't feel pressured if your father or grandfather is one. You don't need to become one if you don't want to.
One reason Freemasons do not recruit is because you coming forth with your own free will and accord is one of the requirements when becoming a member of a lodge.
It has to be your decision.
If you know in your heart that you want to become a mason, then by all means let's talk on what you should do next.
Find A Local Lodge In Your Area
Now is time for you to start doing some work.
Luckily for you, the internet has made this process so much easier.
All yo need to do to find a masonic lodge is to go into Google and type  "your location + masonic lodge". Like so: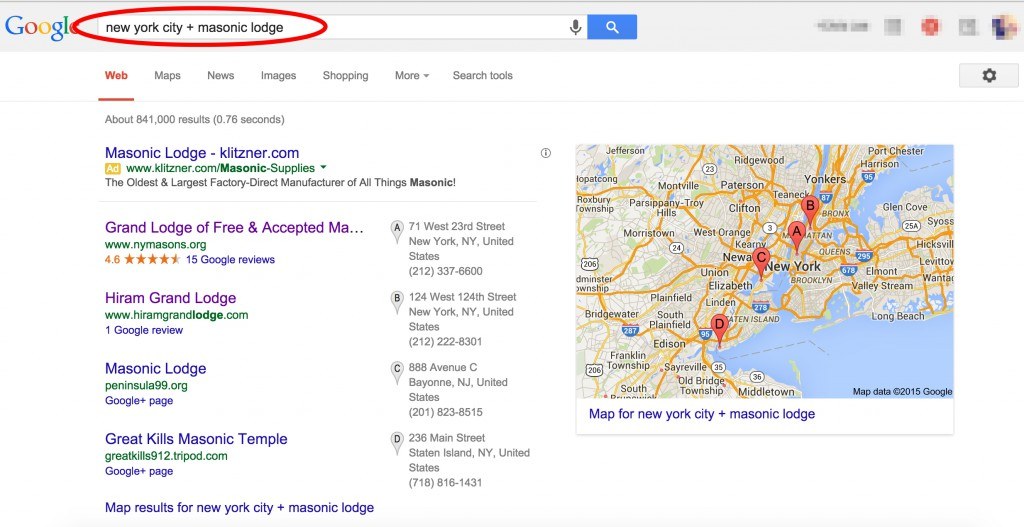 Ideally you pick one that is closest to home but the best thing to do is to visit all these lodges and see what you like best. Remember you'll (hopefully) be making weekly trips to your lodge so keep that in mind.
Once you find the one you want to join, you need to meet with the members of that lodge.
Meet With The Brethren There
Once you find a lodge you'd like to join, feel free to visit when there is a meeting on. Ideally you call first and talk to the lodge secretary.
If you already know somebody that it is a member there you can talk to him and visit the lodge together. He'll even propose you for membership himself if he thinks you're fit to become a mason.
Once you're there you can talk with the brethren; ask as many questions as you like and also ask about the yearly fees you'll have to pay for membership.
Different lodges have different fees so I can't tell you exactly what to expect.
NB: Know that Freemasonry is not free at all, it comes with expenses.
Think About It Again
Once you got all the information you need, I suggest you think about it some more. Take a week or two and see if you still want to become a mason.
Although you can stop going to your lodge meetings and paying your fees anytime you want, you'll always be a Freemason.
That is something that should not be taken lightly (you'll know more about this once you become a member).
Become One
If you decide to go through with it and becoming a Freemason, then that is awesome ! You did the right choice.
Tell the lodge you'd like to join and they will start making preparations to pass you through your first degree of an Entered Apprentice. This is the first degree in Freemasonry.
It's will be one special night so be relax and enjoy yourself. That's all I can say! 😉
Watch this video below to understand what it means to be a Freemason:
---
Closing Thoughts & A Question For You
It's great that you're thinking about becoming a Freemason. I've been a member for 3 years now and I consider Freemasonry as a huge part of who I am as a man and as a person.
Here are some benefits of becoming a freemason, this is what you can expect when becoming one of us.
I wish you all the best in your journey and if you have any questions be sure to let me know by sending me an email or by leaving a comment below.
Also, I'd like to know

WHY

you've decided to become a freemason, please let me know in the comments below.
Also a recommended read for you is to learn how Freemasonry has changed in the thousands of years it has been active, so make sure you download our free ebook; "10 Major Events In Masonic History".