In 48 B.C, during the Siege of Alexandria, Julius Caesar's army set fire to the Great Library of Alexandria, effectively destroying 40,000 scrolls, ancient artifacts, and sacred texts we'll never ever get to read or see.
According to historians, we've lost so much knowledge in that fire, it set humanity back hundreds of years.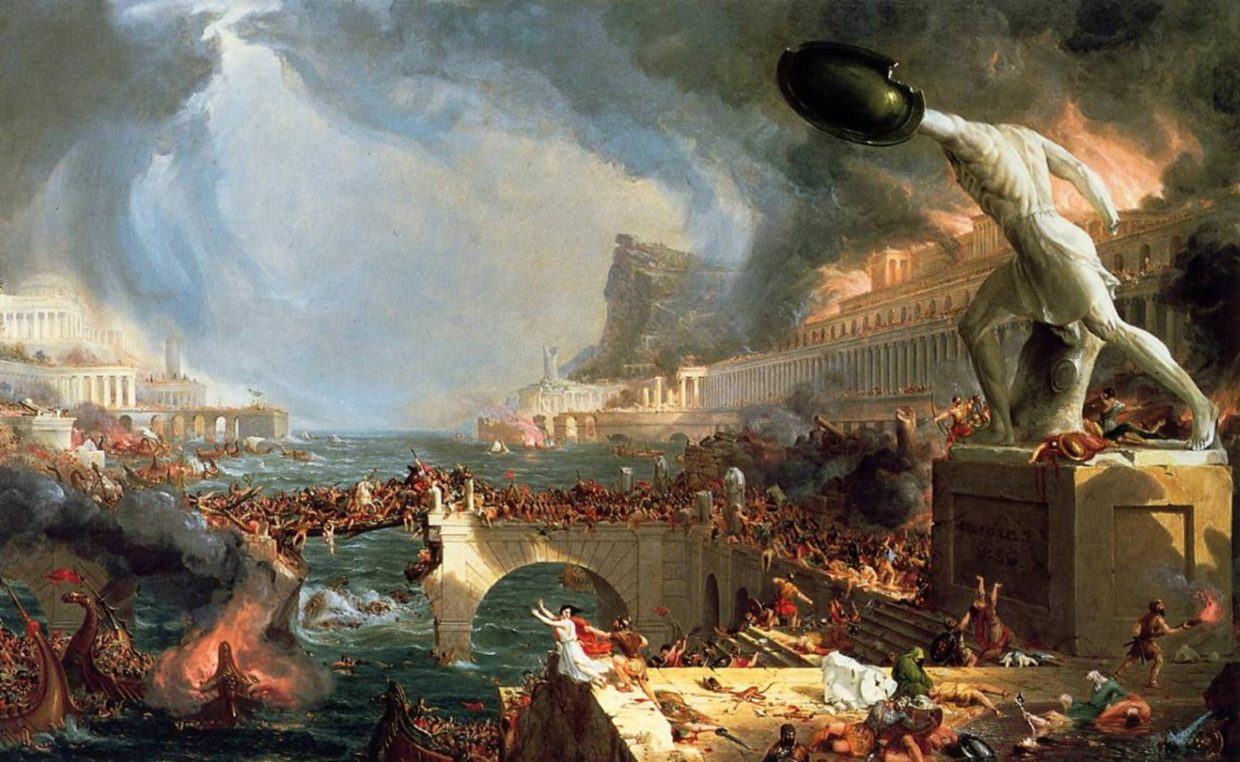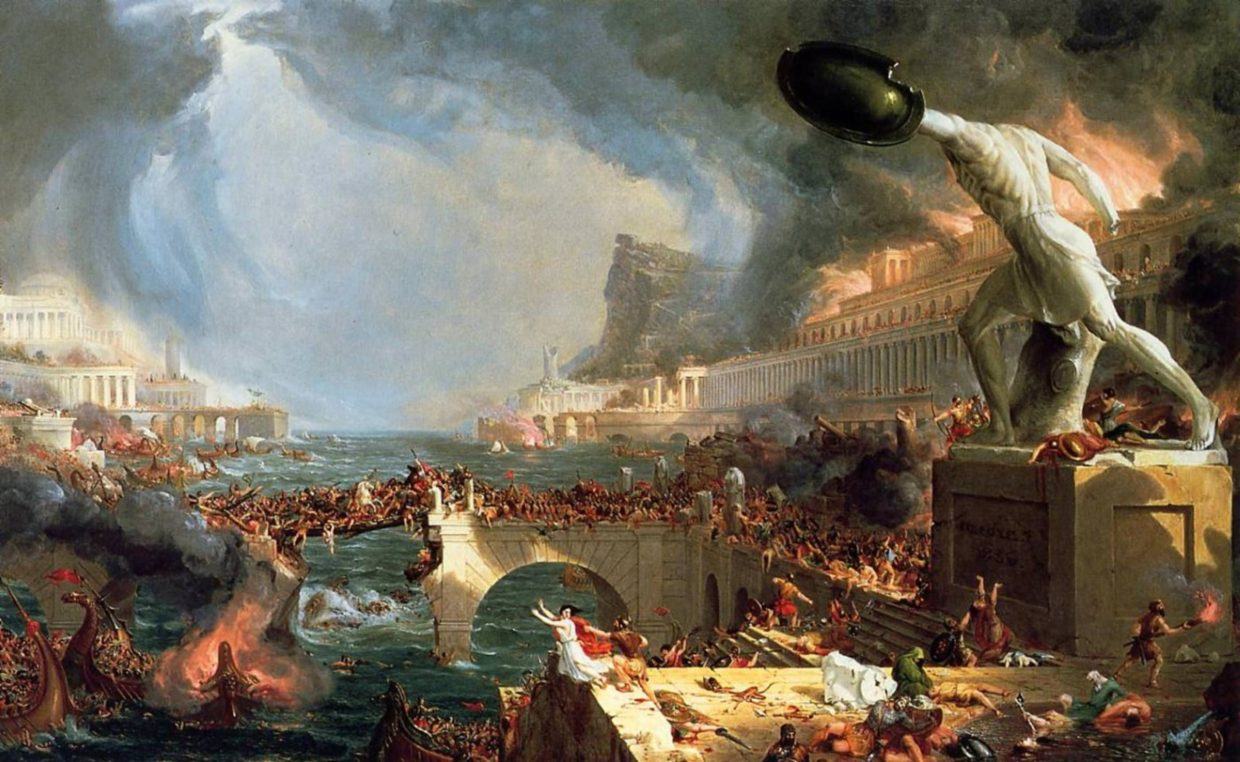 Who can tell what mysteries and ancient codes these texts held?
Where could humanity be by now if we knew the secrets, knowledge, and technology these ancient civilizations uncovered for us?
Unfortunately, we'll never know.
But we can prevent the same tragedy from happening ever again.
---
INTRODUCING: The Great Masonic Library
The Great Masonic Library is a collective effort to digitize and preserve over 300+ Masonic books and other literary texts starting from as early as 1749.
It's a vast collection unlike anything anyone has ever seen before.
Even most Freemasons alive today are unaware of most of these classical texts coming from literary figures such as George Washington, Albert Pike, AG Mackey, Robert Gould, and many others.
Lost to time due to expired copyrights and a dwindling interest in Freemasonry, many of these books have long been forgotten and would've most likely been forgotten forever if it wasn't for this concentrated effort to safe keep them for current and future generations of Freemasons and historians.
This entire book collection is now available – and will remain available for all – thanks to the power of the internet.
---
UPDATE: The Great Masonic Library Membership Website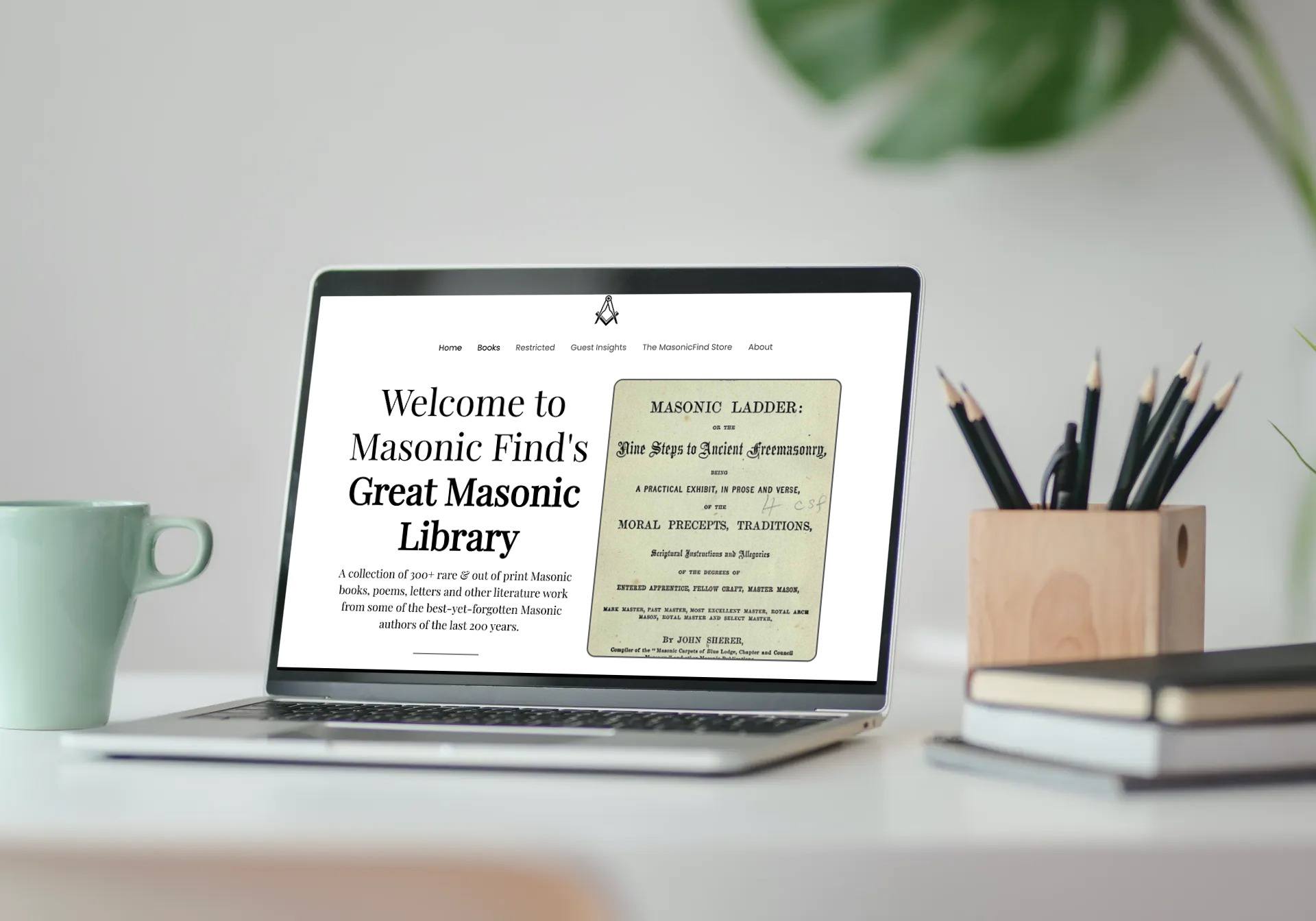 When we first launched the Library, it was only accessible by downloading a heavy 3GB file to your home computer, but we soon realized this is not the best way to do it.
Not only are we moving away from desktop computers and going mobile, but the computing disk-space required to hold the entire Library is impractical.
This is why we set out to create the Great Masonic Library membership website, the new home for all 300+ books inside the Great Masonic Library.
While the entire Library is still available to download (see all titles here), the GML membership website now allows you to:
Access the library 24/7 anytime anywhere.
Browse and download any individual book of your choosing.
Read any book while on the go via the mobile reader.
Network, share, and recommend any book you'd like to other community others.
All this makes the entire Library more accessible to anyone who can appreciate the immense depth, knowledge, Light & history these books offer.
Here's a peek inside the new membership website…
The Mobile Reader:
Any book can be opened via the "full screen" feature allowing you to read through the pages with ease.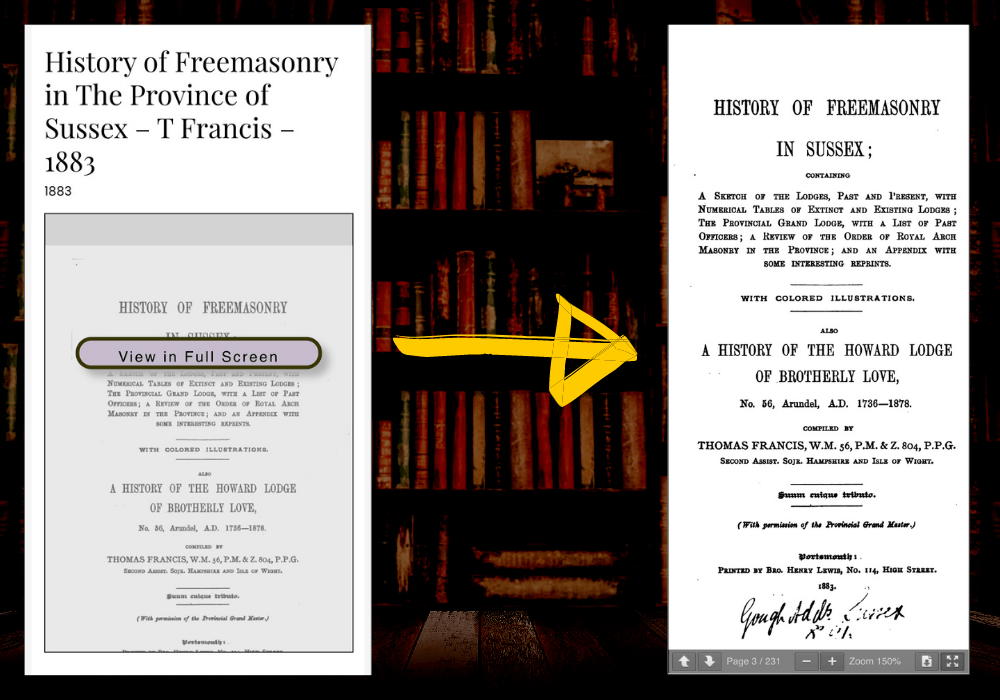 ---
The Easy-Search Functionality:
Any book, topic, or author you're looking for can be found using the new powerful search box on the GML membership website homepage.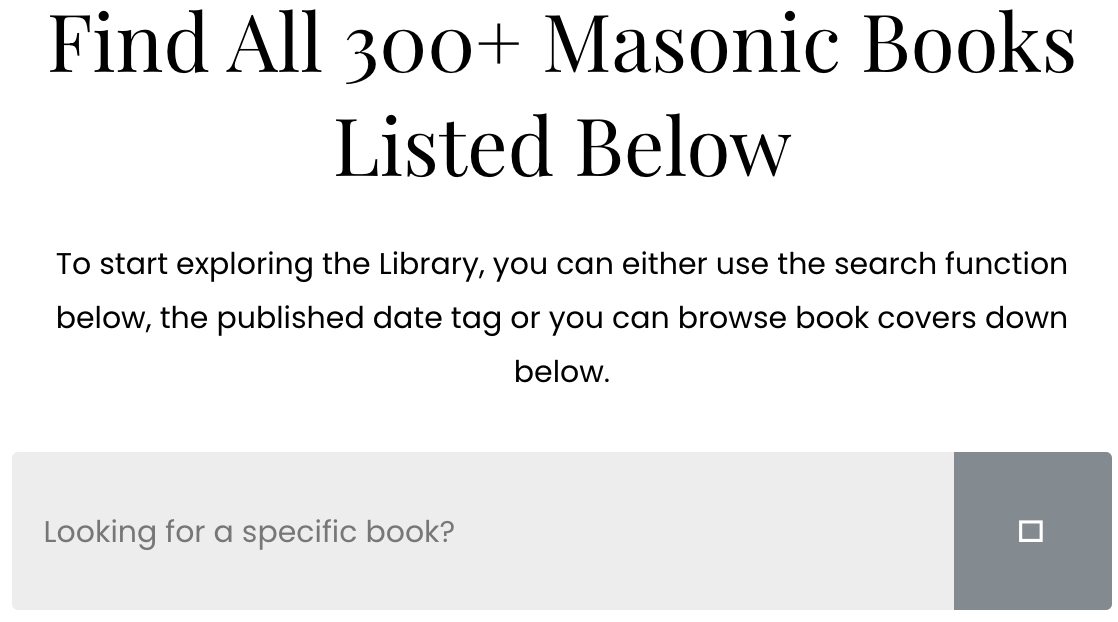 ---
Filter Books By Date:
You can also filter and browse all available books by date of publication.

---
The Restricted Section:
We've also revamped the entire "Restricted Section" of the Library.
An additional 27 books have been added – not intended for the uninitiated – are now accessible only with a special pass-phrase Master Masons only should be familiar with.
Some titles in the Restricted Section include:
The Key of Masonry
The History of the Initiation
The Ceremony of Passing
A Ritual & Illustrations of Freemasonry
---
Masonic Insights:
We also have a new section where we will be inviting guest experts, authors, and speakers to share with us their knowledge (on a wide variety of different topics) exclusively within the GML membership website.
As a member, you will be notified via email whenever a new guide/video goes live on the website.


---
How To Join The Great Masonic Library Membership Website
These books are not for everyone.
These books are not available for the freebie hunters.
These books are not for you if you're going to download them and never open one up.
These books are only for those who can appreciate the immense history these books represent.
This is why access to the entire book collection (including access to the new membership website) now stands at a one-time donation fee of $50.
With a total of 342 books (and more to be added soon), that works out to just $0.14c per book.
That's a tiny cost of entry (in relation to what they are actually worth – some would say they are priceless).
"Morals & Dogma" by Alberty Pike, which can be found inside the Great Masonic Library sells for $30 on Amazon. Now imagine if these books were available elsewhere, and you had to buy them individually – our latest estimation had this entire Library worth over $2,000!
Besides that, you'll also be helping us fund the high costs associated with keeping this entire Library available for generations to come, and I thank you in advance for it.
---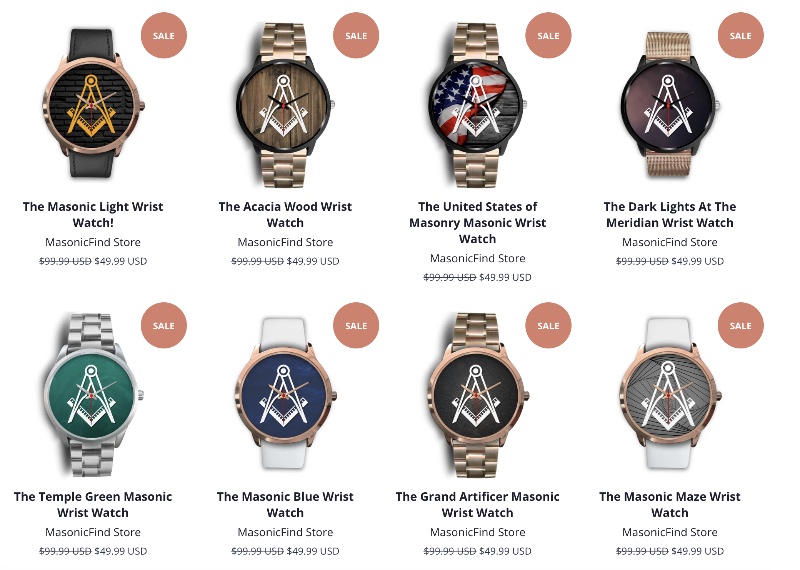 Having served over 30,000 customers worldwide, the MasonicFind Store is one of the leading online retailers for Masonic rings, one-of-a-kind watches, and other Masonic merchandise.
As a token of appreciation for your donation – and for a limited time only – we will also throw in a $20 cashback voucher from the MasonicFind.Store.
I highly recommend you check out one of our one-of-a-kind Masonic watches before we sell out. We will only ever create one watch for one person and then retire it forever.
---
Frequently Asked Questions

Q: Do you need a Kindle?
No, you don't need a Kindle. The reader app we have set up allows you to read (just like you would on a Kindle) all the books available in the Library.
If you do have a Kindle and you wish to read these books on a Kindle instead, you can use the "Send to Kindle" feature.
Q: Are there any hidden fees?
No, there are no hidden fees and no shipping costs either. The $50 donation is a one-time fee and you will have access to the entire digital library for life.
Q: Can I share these books with my Lodge?
Of course, and I encourage you to do so. Feel free to share any of these books with anyone you'd think would appreciate their value. Just be cautious of who you share this collection with.
---
---

---
What Current Members Are Saying…
"I've found my Lodge mentioned in one of these books. It's from 1821! I can't believe it!" – MM Mike Johnson

"Thank you for making this available, I loved the entire collection, my only regret is that I won't live long enough to read all these incredible books" – PM Terry Burlow

"This is an incredible collection fellas – well done. Thank you for making it available to the rest of us" – MM Stephen A. Gilbertson

"I've been looking for something like this for 36 years" – WM Wayne S. Rothstein

"It's amazing what you will learn about the History of the Craft" – MM Steven Felton

"I got this as a gift for my husband! He loved it! Thank you so much!" – Leslie R. Howell

NB: Some books may have occasional imperfections such as missing or blurred pages, poor pictures, errant marks, etc. that were either part of the original artifact, or were introduced by the scanning process. We believe these books are culturally important, and despite their imperfections, we have decided to make them available as part of our continuing commitment to the preservation of Masonic literature. We appreciate your understanding of the imperfections in the preservation process and hope you enjoy this library.