We've just sent you a confirmation email to make sure it was you who actually subscribed – this will guarantee you do not receive unwanted content from us. (I'm sure you've done this before).
After you've confirmed your subscription, you will receive the two bonuses which we've prepared for you, these are; 
'The 10 Major Events In Masonic History" ebook and also,
A special subscriber-only 20% off discount link which you can use the next time you visit the MasonicFind Store.
However…
We Also Have A One-Time Surprise Bonus For You On This Page…

We recently launched "The Great Masonic Library", a collection of 314 rare & out-of-print Masonic books from the greatest Masonic authors of the 19th century.
One of the titles in this collection is the timeless classic "Morals & Dogma" by Albert Pike.
This one book alone sells for $29.95 on Amazon, so it's not too ludicrous to assume the entire collection would be worth well over a $1000 (that is if you had to buy each book individually and IF they were all available – which they're not).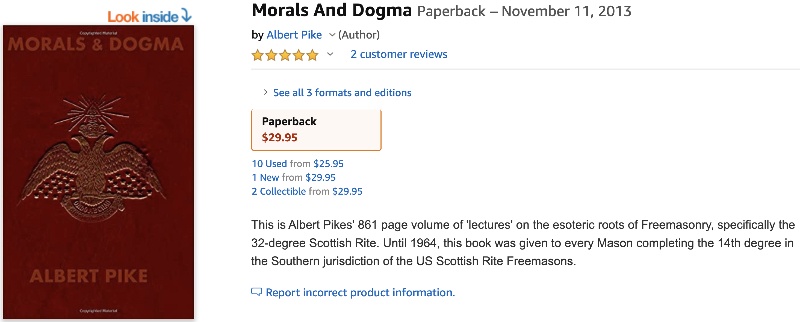 Given the sentimental value of this collection – and the tremendous hosting cost to keep it available to all Brethren – we can't make it available to anyone who's only looking for freebies to claim and never appreciate;
This is why The Great Masonic Library is offered in exchange for a small donation of $20, however;
Given how you seem genuinely interested in Freemasonry, we'd like to offer you the chance to grab the entire collection for just $10.
That's $10 for all 314 books which you are then free to share with any Brethren whom you think will appreciate the vast history, knowledge & Light that can be found in these books.
If you'd like to know more about the Great Masonic Library, you can click here to see all the details but DO NOT CLOSE THIS PAGE.
This offer is available for you until the 10th March 2020 and you'll find it only on this page so if you're interested;
The confirmation email is awaiting for you in your inbox (along with the other bonuses) but this special offer will not be there.
If you'd like to claim this offer, make sure you get your copy of "The Great Masonic Library" TODAY.
MasonicFind.
PS:  We also have a "restricted" section to the Library, which is an additional 28 books. However, to get access to this private collection (which is also free) you need to provide us with some proof that you are actually a Mason (there's information in the restricted section which is not for the uninitiated).
PSS: Thanks again for becoming a subscriber – it's thanks to people like you that made MasonicFind one of the best online Masonic publications and we greatly appreciate your support.