Freemasonry, sadly enough, is seen as an "old person's game".
Youngsters are said to be turning their back on Freemasonry because it's seen as something their grandpa and bored retired uncle would do, but this is far from the truth.
Freemasonry is alive and well.
The problem, as I see it, is that Masonic Lodges are finding it hard to adapt to the modern world are failing terribly in setting up an online presence with the hopes of attracting new members.
Getting new memberships is never easy, but it doesn't hurt to make sure Freemasonry is openly and readily available (online) for people looking for more information about it.
Today, we'd like to give our best shot at tackling this problem. Given the experience, we have to build this website (and the MasonicFind.Store), I think we're more than qualified to show you how to create an online presence for your Masonic lodge.
As a general rule, we always recommend you first discuss this with your Lodge Secretary and WM to see if you have their blessing/support but if they agree to it and want to set it up, here are some things to make sure your Lodge's information is easily found on the internet.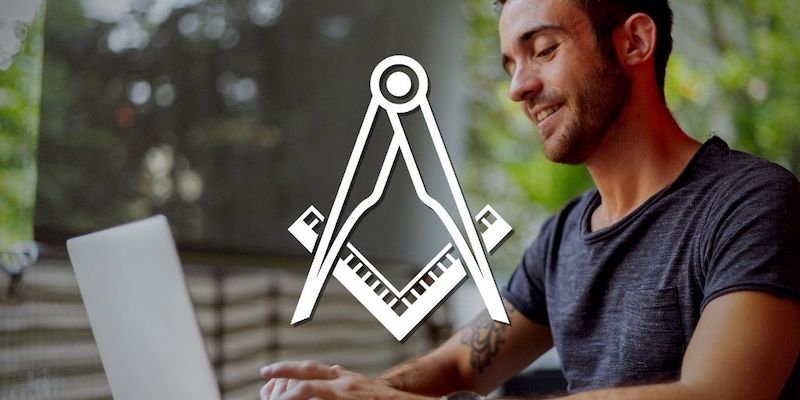 The Freemasons' Community:
A first-of-its-kind online community for those looking to learn more about the mysteries of Freemasonry in the company of like-minded men.
Click here to learn more
.
Set Up A Facebook Page
The first and most easy thing to do is to get set up on Facebook using a Facebook Page and a Facebook Group (discussing this next).
A Facebook page can be set up by anybody who has a Facebook profile. All you would need is to go to the Facebook Create A Page function and follow the instructions there.
It's simple to do and you can set it up in just a few seconds.
Once that is set up, here is what you need to do next:
Invite People To The Page:
Once you're all set up, the next step is to start inviting people to join the Lodge's page.
Obviously, the Lodge members (and their family) should be the ones you invite first but remember, Facebook Pages are open to everyone and anyone (including non-masons) can join.
Set Up Your Lodge Address:
The main purpose of setting up your Lodge online is for potential new members and people interested in the Craft to be able to find it.
Make sure you set up the correct address on the page and more importantly; your contact information.
Make Sure Contact Info Is Clearly Visible:
Emails, phone numbers, FB Messenger, direct communication with the Lodge Secretary; anything that you want as long as people have a way to communicate back and forth with the Lodge.
Set Up Page Roles?
You may also want to consider adding more admins to the page. For example, adding willing Lodge Officers will be a good idea.
Just make sure you are not the only one with admin access to the site, you never know what might happen.
Add Events:
Want to list down your meeting days or any other special events you have going at Lodge?
Setting up a Facebook Event is probably the best way to let people know about it in this digital age.
Set Up A Facebook Group
The next step of your Lodge's online rebranding is to start a Facebook group that is only for recognized brethren of the Lodge.
This is where only members can share ideas and information and you can set it to a "secret group" where you only add people you know are part of the Lodge.
My recommendation is to also avoid adding brethren who are not part of the Lodge, after all; that is what the Facebook Page is all about, but that is your call.
Get Listed In Google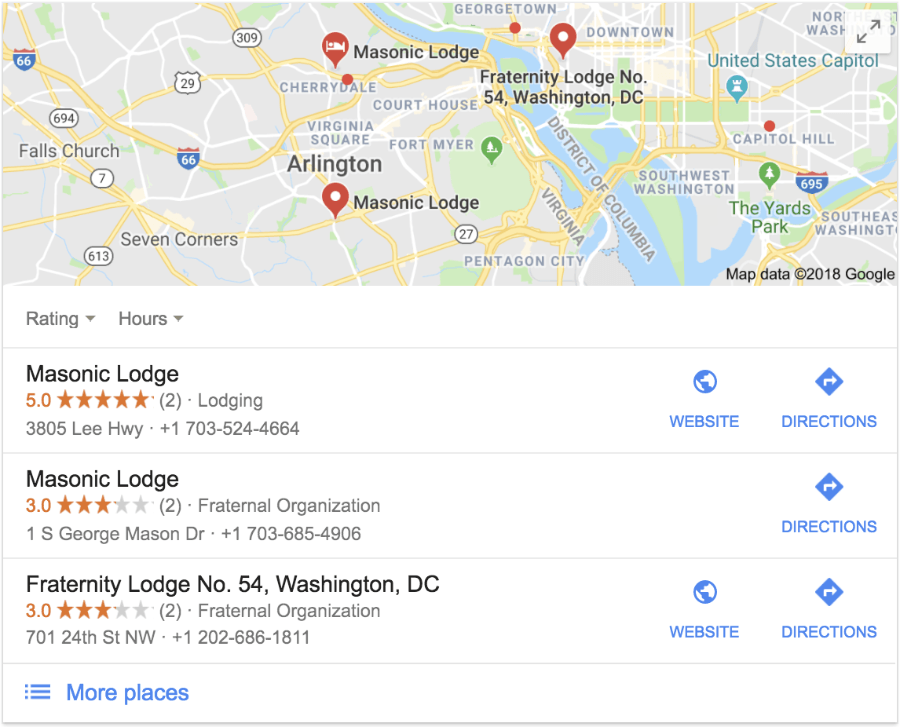 NB:
Aspiring Masons and Master Masons from all over the world look forward to our emails. If you'd like to join them,
sign up for Masonic Find's newsletter
. It's free and our next email goes out in a few hours.
Type anywhere in Google "Masonic Lodge" and the first things that would come up is a Google Listing showing a map and where the lodges are.
These listings do not happen by accident. They are purposeful set up using the Google+ pages (see a guide on that here).
Basically, all you would need to do is to start a Google+ page and verify your address. This involves entering your Lodge's main address and then Google will send you a letter with a secret code to confirm your location.
Once you confirm the number on your Google+ page, then your Lodge will start being listed in the area as a "Masonic Lodge" and it will too start appearing in search results with a map pin.
This is perfect for any traveling brethren who may be in the city for a few days looking to attend a meeting. That is where I usually start a search and the ones that show up with the Google listing is the one I usually go for.
Get A Website For Your Lodge
The next step to take your lodge online should be to create a website for your Lodge.
Now, this is the most important one in my opinion but there are also some fees required with this so you must get the whole Lodge's go-ahead to set this up.
What you would need is this:
A Domain Name (around $15 per year) and
A WordPress installation (around $10 per month for hosting).
You can get all of these from BlueHost and it will run you less than $100 a year to keep it running.
Bit of an expense, yes, but it's a worthwhile expense for sure.
Having a lodge website is a great way to show that your lodge is ready to take on the new digital era.
---
FREE DOWNLOAD: 100 FACTS ABOUT FREEMASONRY (ALMOST NOBODY KNOWS)
Join the 3,000+ Brethren from around the world inside our weekly Masonic newsletter and get our best selling ebook for free (usual value: $20).
---
Want Us Some Help Setting It All Up?
We'd love to help.
If there's something that is not quite making sense, and you'd like to ask us some questions, be sure to get in touch.
---
---