We don't claim to have/know all the answers, but we try our best to answer any and all questions that come our way regarding Freemasonry.
For what we don't know, we usually refer to other reputable online sources and it's with great pleasure to share with you these 6 great websites (and podcasts) for Freemasons which I think you should also be following.
Thanks to the internet, you can get just about any information you need with a few clicks. Whether you are a Freemason looking for some information or are merely curious about the topic, it helps to know where to go. 
Websites and podcasts are some of the best places you can get information on a variety of topics. Unfortunately, getting into the nitty-gritty details of Freemasonry is not always easy. Don't worry; we went to all the trouble so you wouldn't.
Here's a list of some of the best websites and podcasts to help whet your appetite for information on Freemasonry.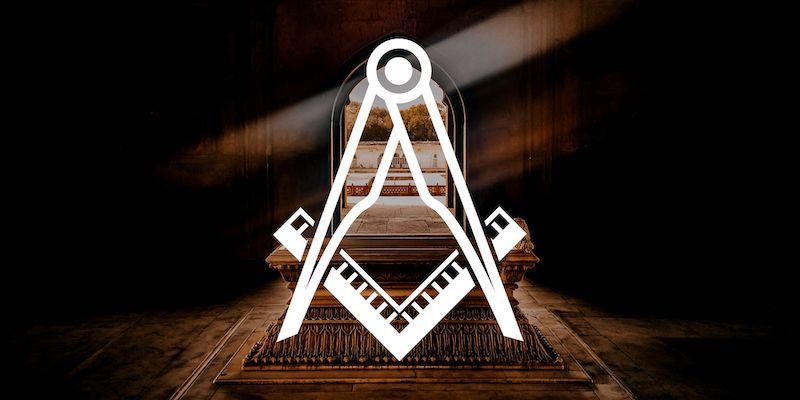 📕 CLICK HERE TO JOIN the 30,000+ subscribers on the MasonicFind newsletter & get recently-updated ebook – for FREE.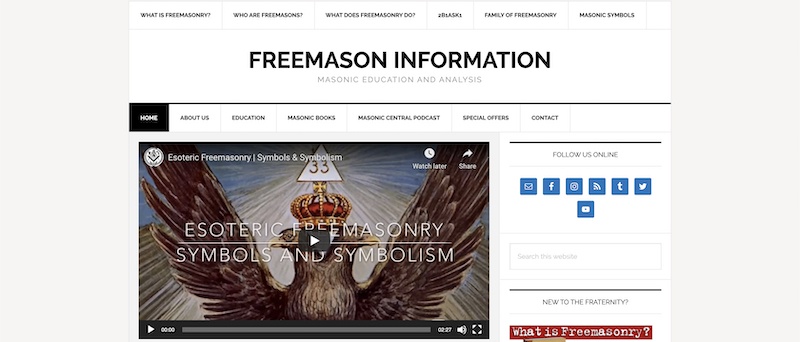 This website is your go-to guide if you are looking to learn everything there is about Freemasonry.
It is regularly updated and keeps records on masonic education and analysis.
Whether you are looking for information on the history of Freemasonry, masonic books, or their symbols, this website has everything that you need.
According to the website, Freemason Information exists as an independent voice in the masonic community.
The site provides information to help non-masons understand the fraternity's internal workings.
Occasionally, the website will allow different contributors to post their pieces under the Sojourners' Column.
However, the frequent contributors are Tim Bryce, Gregory Stewart, and Fred Milliken.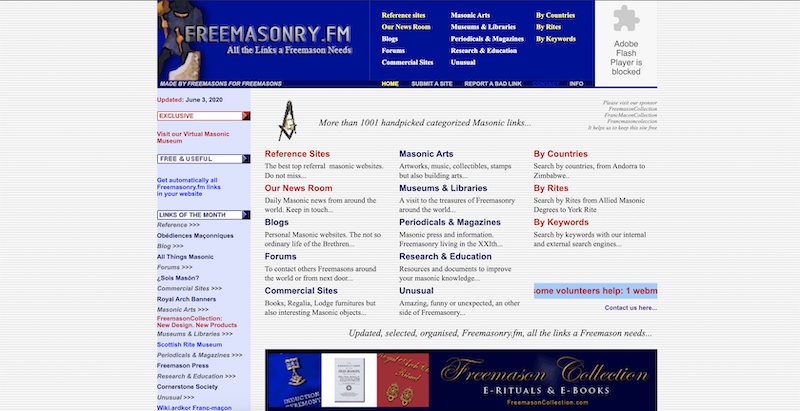 If you are looking for any link related to Freemasonry, then you should camp at this site.
Freemasonry.fm contains more than 1000 handpicked links that will lead you to the best information on the internet about the fraternity.
Here you will get links to reference sites, blogs, periodicals, magazines, and commercial sites on Freemasonry.
The website also allows masons to connect to other brothers through the community forums and exchange ideas.
They can also search for masonic resources by countries or by rites, which makes it easier to connect with other brethren.
If you are a lover of arts, you will enjoy the collection of links to different museums and artworks depicting masonry and its hidden treasures.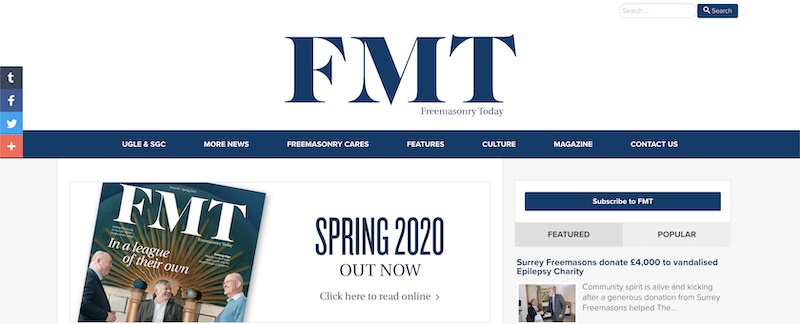 Freemasonry Today is your one-stop-shop for current news concerning the masonry world.
The website is continuously updated with new information about and concerning freemasons in the US.
Besides the news pieces, you will also find features on some of the notable masons and their works, principles, and ideologies.
Freemasonry today also covers the international scene, Grand lodges, and different provinces, districts, and groups.
The site also publishes a quarterly magazine that goes by the same name.
The magazine, just like the site, contains a collection of things happening in the masonic world and features some notable brothers.
Some key features on Freemasonry Today are the charitable actions by the fraternity.
Numerous articles are highlighting the charity efforts by different initiatives and clubs.
There is also a section on the site dedicated to Freemasonry cares, such as the Masonic Charitable Foundation.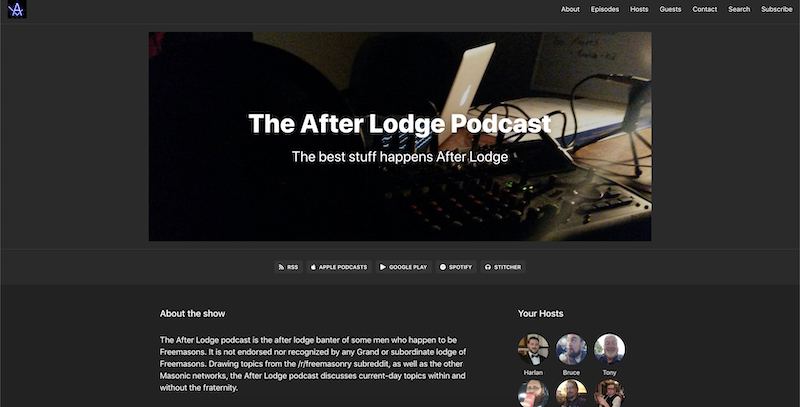 One of the best things about podcasts is that you can binge listen to them.
The After Lodge podcast contains 238 episodes, all of which tackle different topics concerning Freemasonry.
Six freemasons host the podcast. They use the platform to express their banter and mainly draw their issues from the freemason's sub-community on Reddit.
The episodes are about one hour long. Some of the topics they have discussed include Gnotism, the Northern Star Conspiracy, and different masonry lodges.
This podcast will be an ideal choice if you are looking for a source of various topics on Freemasonry, in no particular order.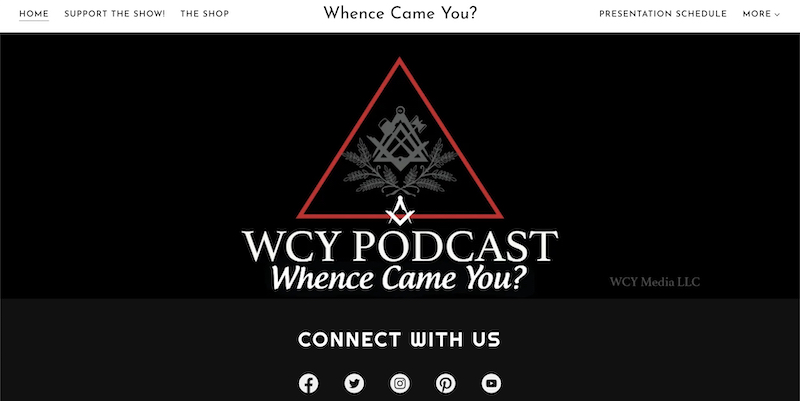 This weekly podcast seeks to dissect today's Freemasonry using past and present research papers on the same.
The podcast is hosted by Robert H. Johnson, who is also an author.
Whence Came You has been airing episodes for the last six years, so you can be sure there's plenty of content to help you understand Freemasonry better.
Whence Came You discusses various topics, ranging from famous masons and their contributions to the fraternity to poems depicting some aspect of Freemasonry.
The host, Robert, also hosts several other podcasts, all of which focus on Freemasonry.
Whence Came You enjoys an audience of over 2 million people worldwide.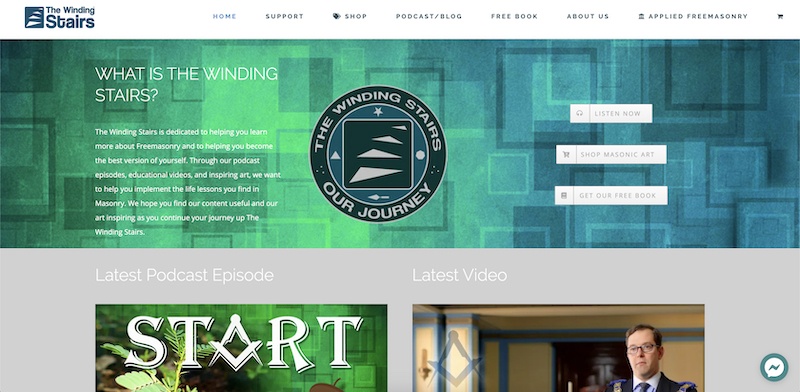 The Winding Stairs comes with a podcast, a blog, and a website, all of which are designed to provide more information about Freemasonry.
The site exists to help people learn about Freemasonry and become better versions of themselves.
This site will give you access to educational videos, podcast episodes, and art that depicts the life lessons of Freemasonry.
Juan Sepulveda is the founder of The Winding Stairs.
He wanted to use his presentation and art skills to provide a collection of masonic education resources. He especially loves using art to help other men who are in search of the Light.
His technique employs different strategies such as optical illusions and symbolism to challenge the viewer to see it from a different perspective.
Juan works with Victor Rosario, the podcast's co-host and Robert Johnson, a contributor, to provide vast resources on masonic education.
Final Words
Freemasonry is the oldest secret society in the world, and many people still don't understand what it is all about.
Whether you are a Freemason, looking to start your journey, or want to learn more about the society, you may not know where to turn to for the right information.
The list we have compiled above contains six of the best resources, and you will find whatever content you want there.
So – delve in and get to understand Freemasonry better and what it entails.
NB: Want to suggest a Masonic website for us? Please leave me a comment down below.
THE GREAT MASONIC LIBRARY
300+ rare & out-of-print Masonic books, poems & illustrations from the 1800s made available for all Brethren to discover!