Conspiracy theorists and anti-masons have often put forward theories that notable historical figures have been associated with Freemasonry for centuries.
The thrust of this argument has helped create a perception that Freemasons are on some sort of a mission to control the world.
A brief look at the history of Freemasons and Freemasonry is more than enough to convince one about the positive contributions of Freemasons to Human Civilization.
THE GREAT MASONIC LIBRARY
300+ Masonic books, poems & Illustrations from the 1800s digitized & made available for all Brethren to discover!
Masons have included Kings, Presidents, Politicians, Writers, Philosophers, Statesmen, Generals, Admirals, Actors, Businessmen, Inventors, Explorers, Sportsmen, etc.
See: The 15 Masonic Presidents of The United States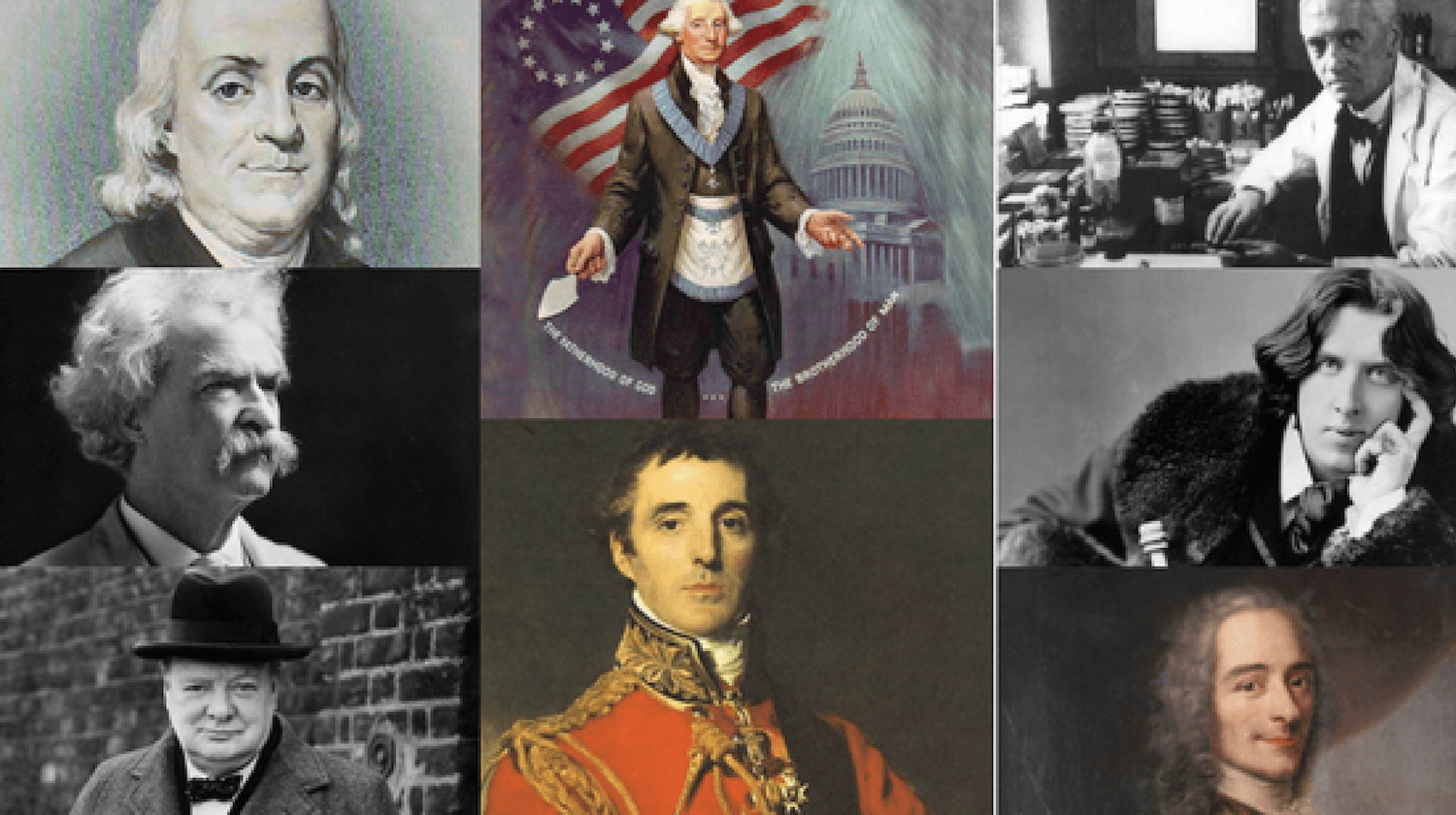 Indeed, to say that Freemasons have played an important role in all sections of the society is not too far from the truth.
Declassified archives of various governments show that Freemasons have played an important role in the world for at least last three centuries and the history of the modern world will be incomplete without mentioning the contributions of Freemasons to our society.
Numerous Freemasons were the driving force behind the enlightenment and Freemasonry was one of the first movement to emphasise on the equality of men irrespective of race, religion or creed.
Here we have compiled a brief list of notable historical figures who were at one point or other associated with Freemasonry:
Benjamin Franklin
Benjamin Franklin played a fundamental role in the Independence of the United States and is regarded as one of the founding fathers of USA.
In addition to being one of the founding fathers of the United States, he is also considered as one of the most illustrious Freemasons and is often regarded as one of the patriarchs of American Freemasonry.
Benjamin Franklin was initiated in St. John's Lodge in Philadelphia during 1730 and remained an active Mason for the rest of his life.
George Washington
Perhaps no other person played as important a role in American War of Independence and establishment of United States as George Washington who subsequently was elected as the 1st President of the United States.
George Washington was initiated in 1952 when he joined the Masonic Lodge in Fredericksburg, Virginia, at the age of twenty.
See: The 15 US Presidents That Were Also Freemasons
Voltaire
Noted French writer and philosopher Voltaire was also a Nason, although he was associated with Freemasonry for only a short time as he was initiated into the Lodge of the Nine Sisters, at Paris, April 7, 1778, – 2 months before his death in the presence of Benjamin Franklin.
Although, Voltaire was throughout his life surrounded by friends who were Masons of various degrees.
Duke of Wellington
Arthur Wellesley, more popularly known as the 1st Duke of Wellington was also a Freemason like his father and elder brother who both rose to become the Grand Masters of the Grand Lodge of Ireland.
Although, unlike them he was a mason only during the initial years of his life as the latter part of his life was mostly spent as an active soldier and politician.
Duke of Wellington was initiated as a mason into the family lodge at Trim No 494 aged 21 during 1790. Lodge No. 494 later relocated to Dublin.
Sir Alexander Fleming
Sir Alexander Fleming is known for discovering the first antibiotic Penicillin and can be regarded as one of the most important figures in the history of modern medicine as his discoveries and research paved the way for other breath-taking discoveries in the fields of biology and medicine.
Due to his work, he was Knighted in 1944 and awarded the Nobel Prize in Physiology in 1945.
He was initiated as a mason at Sancta Maria Lodge No. 2682, London during 1909 and was an active Mason for the rest of his life.
Oscar Wilde
Noted playwright, essayist, novelist and poet Oscar Wilde was also a Freemason.
He joined Apollo University Lodge during his time at Oxford University partly due to pressure from his father who was a lifelong Mason.
Although, he was expelled from various lodges bringing an end to his association with Freemasonry.
Mark Twain
Mark Twain is perhaps the best-known American writer whose works have helped shape the modern American literary scene.
Twain was initiated at Polar Star Lodge No. 79 A.F.&A.M., based in St. Louis during 1861 and resigned in 1869.
Works of Mark Twain have occasional and subtle references to Freemasonry, although he was careful not to emphasise his background as a freemason.
Winston Churchill
Winston Churchill is another notable historical figure who was a freemason. Winston Churchill stands out as one of the few people who influenced politics, statecraft and war in the 20th century.
He was initiated in the Studholme Lodge 1591 on 24 May 1901 and remained an active Mason until his resignation in 1912.
Closing Thoughts
This is by no means a comprehensive list as Freemasons have helped mankind progress in each and every sphere of life and the above-mentioned figures are just a small part of the Masonic tradition of excellence and contribution to the society at large.
WEEKLY SALES ON
THE MASONICFIND.STORE
Tax included - $0 Shipping - No Hidden Costs - Lifetime Guarantee