This is a question we get asked a lot here and on our Facebook page so we've finally decided to write about this and detail the step by step process of how to join the freemasons.
I'm glad to see so many people from all walks of life, races, religion and countries be interested in joining the craft.
It really gives us hope for the future and we're glad we can help ease the initiation of a possible new member. For a more exact action plan, be sure to also read our post: How To Become A Freemason In 5 Steps
So without further talk, here is…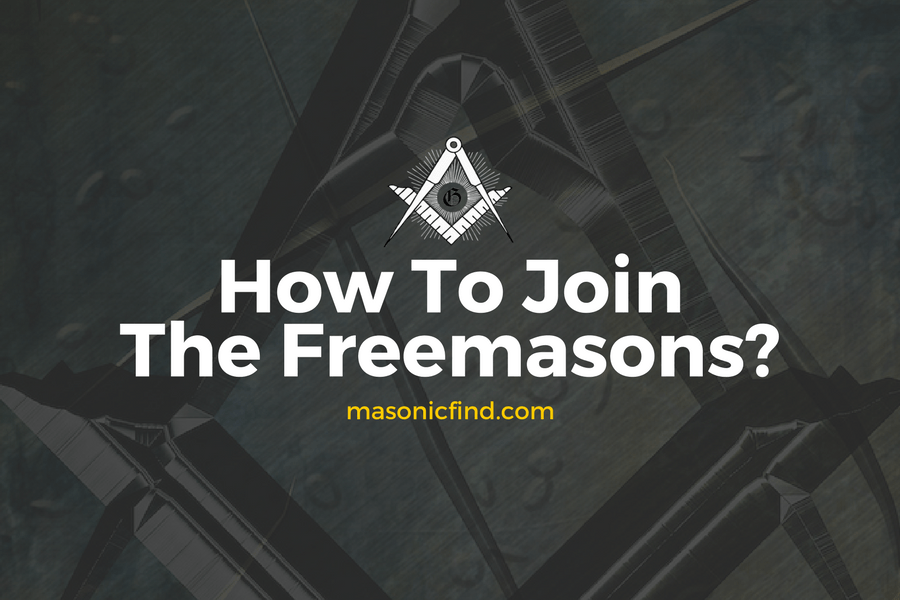 Before you decide to become a freemason, there are two main things you need to understand;
Masonry is Not FREE and Freemasonry Won't Make You Rich
Freemasonry costs money to join, with lodges asking for an annual fee ranging from $50 to $200 (and more) A YEAR for membership (not including donations, dinner parties and the regalia you have to buy)
Also when you become a freemason, do not expect to receive knowledge that will make your rich and / or powerful.
Yes, you will meet new contacts and socialize with people who are "successful" but this can come from any other social group or profession.
Another thing you need to remember is that whatever your social status may be, you have to start from the bottom and earn your way up by doing your degrees.
So, now that you have considered what I just told you and you still want to become, here is how you can join a masonic lodge and start earning your degrees.
If you know anybody that is a freemason, ask them about the craft and do an inquiry about membership! The masonic motto is: "Ask One To Be One" (ASK12BE1)
Don't Be Afraid To Ask.
Ask your friend if he can get you an application and if you are a person that qualifies to be a freemason (you believe in a supreme being, are over 21 years of age and have no criminal record).
I am sure he will be happy and honored to pass on your application to the lodge, he will also become your "proposer" from then on.
Another popular way to become a freemason is to go to a lodge and inquire about membership directly. Visit a lodge in your area. (Type: ""Your area" + masonic lodge" in Google), visit, and simply ask.
Ask as many question as you like to any member of the lodge, or if possible try to talk directly to the lodge secretary or the master himself.
Do not be afraid to ask questions. Make sure you know what you are getting yourself into.
Freemasonry Is NOT For Everybody
If you pass the three "tests" mentioned earlier, have spoken to some freemasons and you like what the whole craft and idea is about, be sure to request an application and fill it out. Give it you your proposer and he will take care of the rest.
Hopefully you will receive your first degree in a few months and you'll get your third (Master Mason degree) in about a year's time. Yes, a whole year or more! Just be patient and enjoy the ride.
Now that you know how to join the freemasons, just remember that this organization has / had kings & presidents in its ranks. Be sure to approach it with the utmost respect it deserves.
Final Words On Becoming A Freemason
I hope this little blog post has answered any question you might have, if you have any further questions and require some assistance, do not hesitate to contact me directly on Facebook or by leaving a comment below.
If you'd like to know more about Freemasonry, I suggest you also check out the video below. Welcome to Freemasonry!